Mixed media tag "Sweet Angel"
Bonjour,
Après le style steampunk, je voudrais vous présenter mon nouveau tag tout en douceur, et très pailletés.
J'adore les anges. Ici, je l'ai représenté par une figure de chez Prima avec un tampon "aile" que j'ai embossé sur un transparent avec une poudre blanche.
Voici quelques photos d'un peu plus près...
Hello,
After the steampunk style, I would like to share with you my new tag, very smooth, and very sparkly.
I love angels. Here I've represented by a figure of Prima with stamp "wing" that I embossed on transparent paper with a white embossing powder.
Here are some pictures from a little closer ...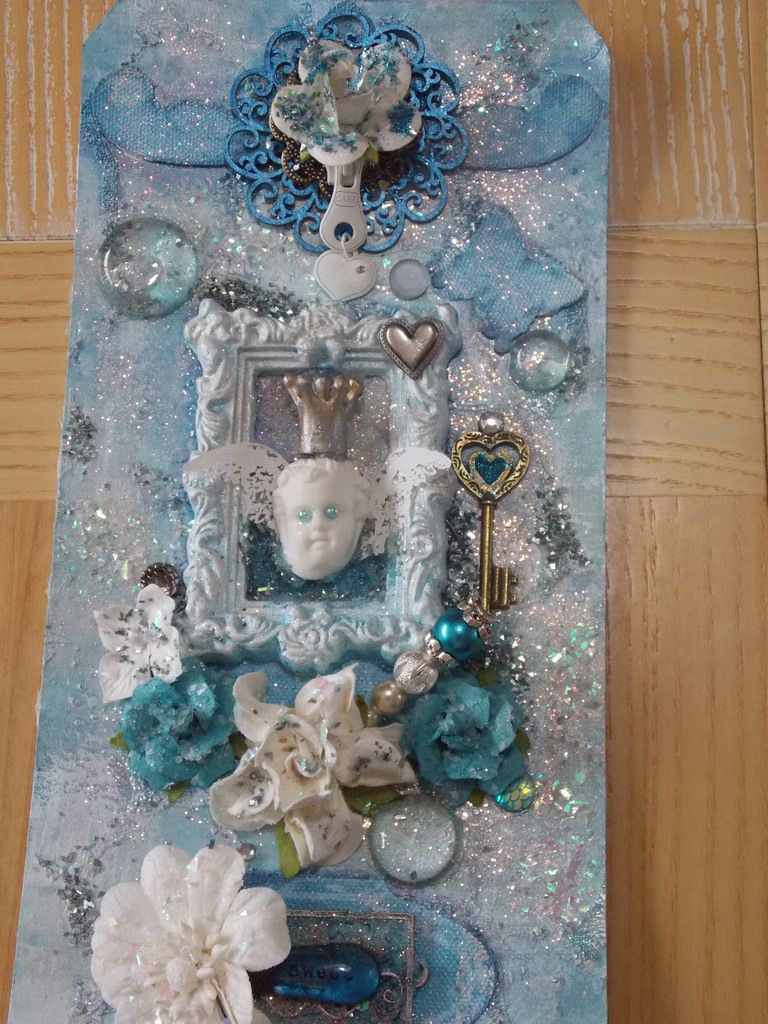 Un petit tuto pour ce tag :
Sur un grand tag, j'ai d'abord appliqué une pâte de texture à crackler Platinum avec un Pochoir. Avant de laisser sécher j'ai mis du Glass glitter Platinum sur la pâte pour plus de texture.
J'ai ensuite mis du resist canvas (prima) et ai vaporisé quelques encres (mica powder bleu + perfect pearls mists turquoise + Acrylic paint metallique deep waters + distress ink silver).
Tous les embellissements ont été collés avec du 3D Matt Gel et j'ai rajouté quelques paillettes.
Embellissements : Mechanicals de Finnabair vintage trinkets, tin hearts, art pebbles, pearls.
Paillettes : Stampendous shaved ice, Ranger Dry fine Glitter diamond, Finnabair micro beads splash, glitter bleu.
A little tutorial for this tag:
On a large tag, I first applied a texture paste crackler Platinum with a stencil. Before leaving dry I put the Glass glitter on Platinum paste for adding texture.
I then put the resist canvas (prima) and I sprayed some inks (mica powder blue + turquoise + mists perfect pearls Acrylic paint metal deep waters distress ink + silver).
All embellishments have been glued with 3D Gel Matt and I added some glitter.
Embellishments: Mechanicals of Finnabair vintage trinkets, tin hearts, pebbles art pearls.
Sequins : Stampendous shaved ice, Ranger Dry Fine Glitter diamond, Finnabair micro beads splash, blue glitter.
J'espère que ce tag vous aura plu.
A la prochaine...
Hope you like this tag.
See you later...