Toile Mixed Media "Romantic Heart" - Video tutorial
Bonjour,
Aujourd'hui je vous montre la dernière toile que j'ai faite.
Vous trouverez la liste des produits utilisés ainsi qu'une vidéo tutoriel à la fin de l'article.
Hello,
Today I show you the last painting I made.
You will find the list of products I used as well as a video tutorial at the end of the article.
J'ai voulu un fond texturé. Je l'ai créé avec du gesso blanc que j'ai appliqué avec un couteau à palette.
Ensuite, j'ai appliqué une couche de pâte de texture et tamponné dessus. Attention à bien nettoyer les tampons juste après les avoir utilisés !
Puis, j'ai appliqué un peu de pâte à crackler transparent à certains endroits.
Enfin, j'ai mis du Grit-Paste à travers un pochoir sur toute la toile.
I wanted a textured background. I created it with white gesso that I applied with a palette knife.
Then I applied a layer of texture paste and stamped on it. Be careful to clean the stamps right after using them!
Then, I applied some clear crackle paste randomly. Finally,
I put Grit-Paste through a stencil all over the canvas.
J'ai appliqué de la peinture acrylique metallique et sparks (Emerald Green, Mermaid Teal, Light Patina, Deep waters, Magical Pond), puis j'ai mis, très légèrement avec la technique du pinceau sec, du gesso blanc.
Sur la texture, j'ai appliqué de la peinture metallique Brass Hardware + de la metallique wax white gold.
I applied metallic acrylic paint and sparks (Emerald Green, Mermaid Teal, Patina Light, Deep Waters, Magical Pond), then I put, very slightly with the dry brush technique, white gesso.
On the texture, I applied Brass Hardware metallic paint + metallic white gold wax.
J'ai fait un coeur sur du carton que j'ai peint avec les peintures metalliques Dark Velvet et Sparks Iris Potion, ainsi que du gesso noir pour le contour.
J'ai mis une bonne couche de Crackle Glaze. Une fois sec, j'ai appliqué de l'antiquing cream en blanc et j'ai séché. Avec un torchon humide, j'ai enlevé partiellement cette couche pour qu'il ne reste que le blanc dans les craquelures.
J'ai embossé avec un tampon texte et de la poudre à embosser or sur tout le coeur, puis j'ai embossé seulement sur le contour avec une poudre Or vieilli.
I made a heart on cardboard that I painted with metallic paints Dark Velvet and Sparks Iris Potion, as well as black gesso for the outline.
I put a good layer of Crackle Glaze. Once dry, I applied antiquing cream in white and dried. With a damp cloth, I partially removed this layer so that there is only white in the cracks.
I embossed with a script stamp and gold embossing powder all over my heart, then embossed only on the outline with an aged Gold powder.
Les embellissements ont d'abord reçu du gesso transparent,puis ont été peint avec les mêmes peintures. J'ai mis sur certains embellissements de la peinture Sparks Butterfly Spells et Unicorn's Hair ainsi que du metallique wax Rich Copper et Vintage Gold.
The embellishments first received transparent gesso, then were painted with the same paints. I put on some embellishments the Sparks Butterfly Spells and Unicorn's Hair paint as well as Rich Copper and Vintage Gold metallic wax.
J'ai mélangé du 3D Matte Gel et des cailloux pour mettre autour des embellissements.
La touche finale a été de mettre Glass glitter, mica flakes, glass beads et paillettes.
I mixed 3D Matte Gel and Art Stones to put on embellishments. The final touch was to put Glass glitter, mica flakes, glass beads and glitter.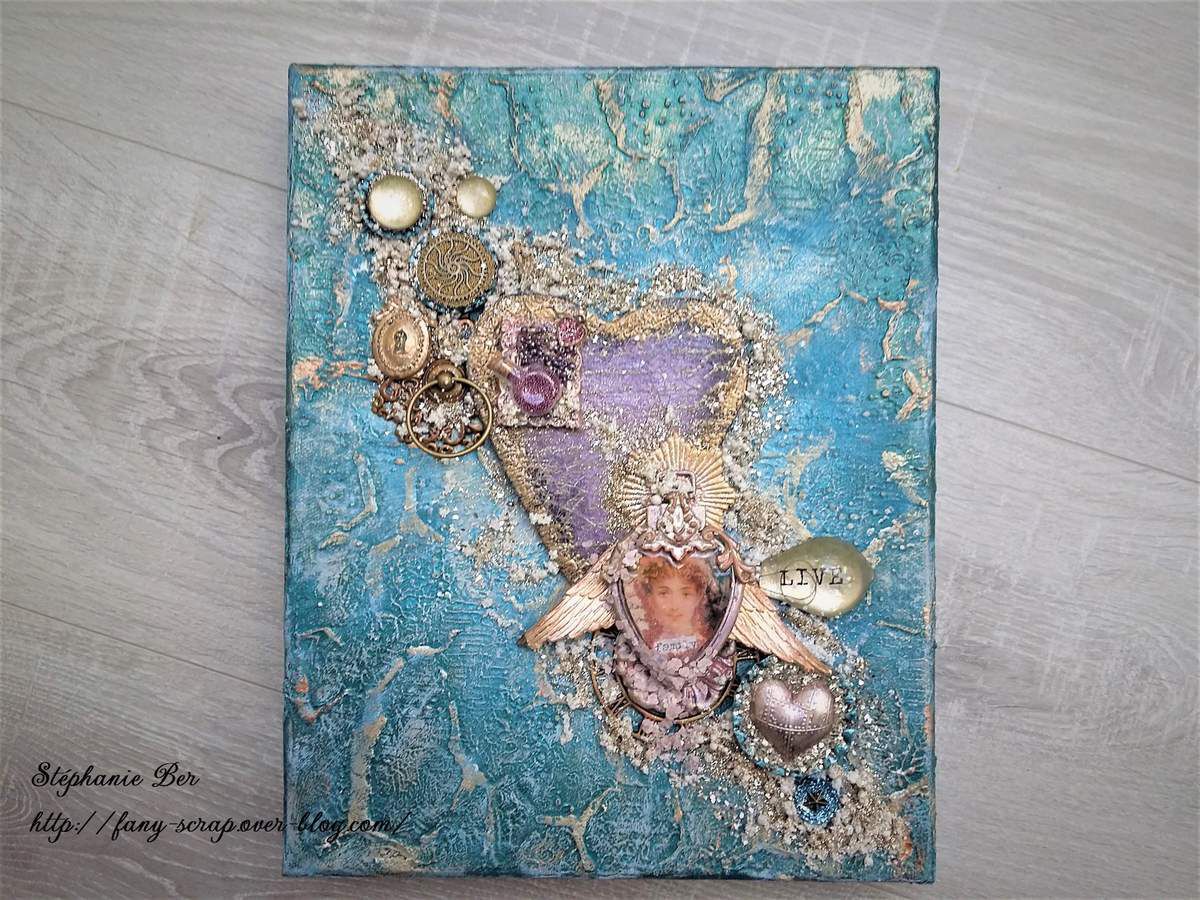 Liste des produits utilisés / Products used :
- Prima Finnabair Acrylic Paint : Emerald Green, Mermaid Teal, Light Patina, Deep Waters, Dark Velvet, Brass Hardware
- Prima Finnabair Sparks Paint : Magical Pond, Iris Potion, Butterfly Spells, Unicorn's Hair
- Prima Finnabair Metallique Wax : White Gold, Rich Copper, Vintage Gold
- Stampendous Frantage Embossing Powder : Aged Gold
- Ranger Embossing Powder : Liquid Platinum
- DecoArt Crackle Glaze, Antiquing Cream Titanium White
- Prima Art Stones, 3D Matte Gel, Heavy Body Gel
- Prima Glass Glitter Sterling, Mica Flakes Mulberry, Glass Beads Licorice, Micro Beads Gold, violet and Glitter blue, gold, pink.
- Prima Finnabair Vintage Trinkets and Mechanicals
- Prima Finnabair Art Pebbles
- Fabri-Tac glue.